About Me
professional profile
and contact info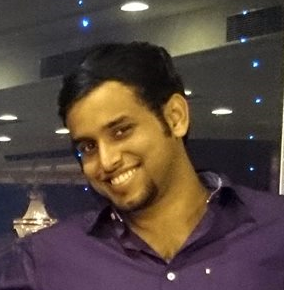 Hello, I'm Ravi Roshan, currently working as Technology Consultant at Deloitte Consulting, Bangalore. I am
Microsoft Certified Professional, Microsoft Solution Developer
and was part of the elite
Microsoft Student Partner program
, India.
Apart from being a Technology Enthusiast, I am a big time foodie and a Nature Lover. In short, I can be described as techie by love, engineer by field, coder by passion, developer by choice and human by heart.
me@raviroshan.info
+91-9036415420
Bangalore, India
My Expertise
skills that I'm
proud of
I possess expertise in full stack web development using HTML5-CSS3, Bootstrap 3.0, SASS/LESS, JavaScript [ECMAScript 5, 6], jQuery, AngularJS v1.5, ReactJS, ReduxJS, NodeJS, Java/J2EE, JDBC, Spring, Struts, Hibernate and Web-Services.

Also having profound knowledge of working on Native & Hybrid mobile applications using React Native & Marmalade.
Front-End Development
J2EE Web Applications Development
Desktop Applications Development
Mobile Applications Development
Favorite Quotes
that inspire me
If you're bored with life, if you don't get up every morning with a burning desire to do things, you don't have enough goals. Lou Holtz
The dream is not that you see in sleep , dream is which does not let you sleep. Dr. Abdul Kalam
You can't fall if you don't climb. But there's no joy in living your whole life on the ground. Unknown
Being the richest man in the cemetery doesn't matter to me. Going to bed at night saying we've done something wonderful, that's what matters to me. Steve Jobs
What I Do
things that
i love to do
Learn-Share-Contribute
When you learn something from a community, get something as a reward or feel blessed.
PASS IT ON.
Nature Lover
I love to explore the Nature, the Breath of Fresh Air and Long Sound of Waterfall (Nature's Best White Noise For Relaxation )...
Networking with people
I like to be surrounded by friends & family and bunch of techie,,,
New people are always welcome in my friend list...